Sonic London: November Winter Party Details!
Greetings UK Sonic fans!
Does it bum anyone out having to wait for Summer of Sonic once a year to be able to enjoy the company of fellow Sonic fans in a country as fond of Sonic as the United Kingdom? Is it even worse when there just are not enough tickets to go around for SOS?
The good news is that you don't need to wait for SoS to have a great time with fellow fans! Sonic London has been in operation for several years, working to bring fans together in regular meetups held every few months; recent meets have even managed to gain some recognition from Sumo Digital, Nintendo and Capcom. It just so happens that in a few weeks Sonic London will be throwing it's 12th meetup; for those who were already planning on attending the meetup, it's important to note the venue has been changed!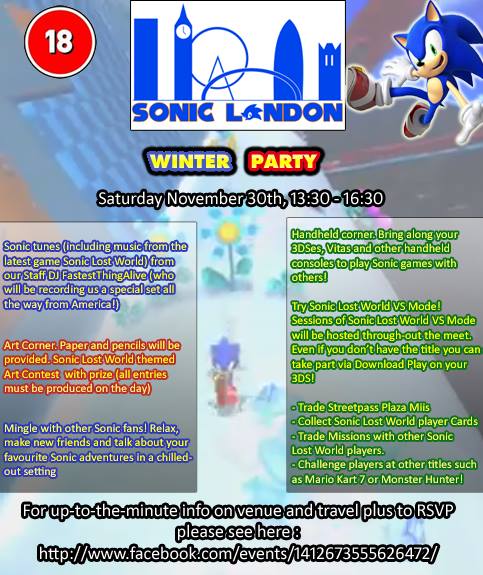 Sonic London's 12th meetup, officially titled the SonicLondon Winter Party, will be held on Saturday, November 30th from 1:30 to 4:30 PM. The actual venue is the Meltdown London at 342 Caledonian Road in north London. Activities will include gaming, drawing, and simply having fun listening to Sonic music and chatting with fans! Meltdown is a gamer-themed bar, and it has agreed to loan its Xbox 360 to Sonic London for its gaming activities. As some members will be drinking, it is age 18 and up only.
To keep up to date with any changes in the meetup, the event can be followed at its Facebook page. Don't hesitate to mark yourself as going to the event (you need to join the Sonic London group first), either! For all who attend, I hope you have a blast!